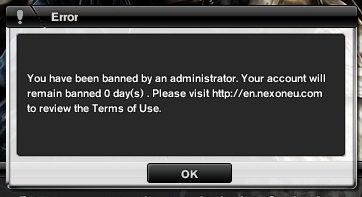 "

You have been banned by an administrator. You account will remain banned 0 day(s). Please visit www.nexon.net to review the terms of use.

"




— Combat Arms Title Screen
Description
Edit
The banned for 0 days message may appear if your account is suspended for a period of less than 24 hours.
Also, there is a bug that will trigger this message if you are attempting to logon through CombatArms_Direct.exe and your password is over 12 characters long.
Suggestions
Edit
Please check your Player Profile and the Wall of Shame for any ban or suspension notice on your account. If you have been banned or suspended and today is the day they will release the suspension, try again at a later time.
If your password is over 12 characters long, you will need to change your password to a shorter one to use Combat Arms Direct.
Ad blocker interference detected!
Wikia is a free-to-use site that makes money from advertising. We have a modified experience for viewers using ad blockers

Wikia is not accessible if you've made further modifications. Remove the custom ad blocker rule(s) and the page will load as expected.