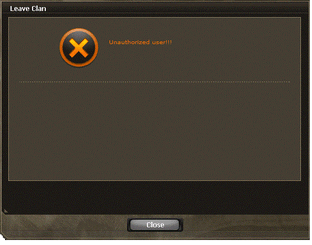 Description
Edit
Some users may encounter an "Unauthorized user!!!" error when trying to access the clan page functions in-game.
This usually means that the in-game web browser (Internet Explorer) was not able to authenticate your session or accept the necessary cookies.
Note: Combat Arms uses Internet Explorer for all in-game web-based interactions regardless of what browser you personally use.
Enable cookies for Internet Explorer.
Open the Windows Control Panel
Select "Internet Options" (May be found under "View network status and tasks" depending on your configuration)
Select the "Privacy Tab"
Use the slider bar to select a setting other than "Block All Cookies"
Ad blocker interference detected!
Wikia is a free-to-use site that makes money from advertising. We have a modified experience for viewers using ad blockers

Wikia is not accessible if you've made further modifications. Remove the custom ad blocker rule(s) and the page will load as expected.