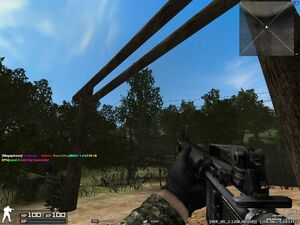 For some players, portions of texures in Combat arms may appear to be missing, invisible, or distorted. This is caused by a graphics rendering glitch on AMD graphics cards running Catalyst Control Center version 12.4.
Install hotfix
Edit
AMD released a hotfix that corrects this issue in the following cards:
ATI Radeon HD 4500 Series
ATI Radeon HD 3600 Series
ATI Radeon HD 3400 Series
ATI Radeon HD 2900 Series
ATI Radeon HD 2600 Series
ATI Radeon HD 2400 Series
The hotfix can be downloaded here:
http://support.amd.com/us/kbarticles/Pages/AMDCatalyst124bhotfix.aspx
Ad blocker interference detected!
Wikia is a free-to-use site that makes money from advertising. We have a modified experience for viewers using ad blockers

Wikia is not accessible if you've made further modifications. Remove the custom ad blocker rule(s) and the page will load as expected.