Note this page is still under construction

This page should not be considered complete and may not include all of the information needed to solve an issue. Please use this article's comments section to leave suggestions. Check back at a later time to see if the page has been updated or edit this page yourself.
See Category:Underconstruction for other incomplete pages.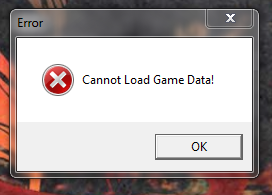 When attempting to start the Nexon Game Manager, the error messsage "Cannot Load Game Data!" may appear.
The cause of this error is currently unknown.
Clean the System
Edit
Download and run CCleaner.
Ad blocker interference detected!
Wikia is a free-to-use site that makes money from advertising. We have a modified experience for viewers using ad blockers

Wikia is not accessible if you've made further modifications. Remove the custom ad blocker rule(s) and the page will load as expected.